A free messaging and content sharing app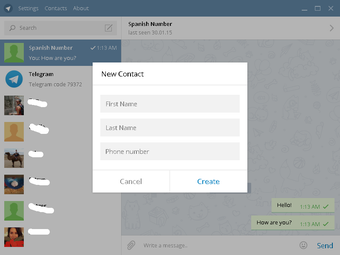 1/3
Telegram is an app for instant messaging and sharing content which differentiates itself from the competition through its focus on mass communication. Apart from allowing you to message your friends for free individually or pack them in groups, the app features Channels. Such channels can let you create or follow to broadcast messages to all the subscribers on the channel.
More than a messaging app
As an online messaging app, Telegram works similarly to popular choices such as Viber and WhatsApp. It uses data or a WiFi connection to allow you to message your contacts individually, in groups, send messages in text of voice, share files, send stickers and gifs, and make voice calls.
However, another feature of Telegram is its content. It features channels that you can create or subscribe to and send or receive public messages. Channels can take an unlimited number of subscribers, but only admins can post.
Getting started
When you first open the app, it will require you to register with your cellphone number. If you already have the app installed and set up on another device, you can perform a quick login with the QR code.
Since Telegram hosts more features than its more popular counterparts, it comes with a learning curve. Users can find online tutorials for more complex features.
Connecting with people
Since users create their profiles using phone numbers, you'll see all the people whose numbers you have on your phone in your Telegram contacts.
You also add a username to your profile, and anyone can find you through this identifier, as well.
Telegram allows you to send messages, voice clips, and stickers, to your contacts individually and in groups. The group chats can contain up to 200 thousand people.
The conversation threads are well-designed and easy to follow. For personalisation purposes, the app also allows you to use a photo from your device or one of the included images as chat background.
You can send messages and videos through the chat option, too. Telegram features many photo editing tools for exposure, saturation, blur, curves, and much more.
Channels
Channels are one-way messaging platforms where admins can post messages, and an unlimited number of subscribers can access them.
These can be private or public, and any user can create one. Most revolve around specific hobbies or topics of interest, but even government bodies sometimes share content using this platform. In the latter case, you'll see a verification symbol next to the admin profile.
You can find channels to follow in three ways. The global search function allows you to do so through keywords. Alternatively, you can get a link from another user or on online lists on particular websites.
Setting up a channel is straightforward – you give it a name, create a URL, and invite contacts. Then, you broadcast messages as you would in a private chat.
Other features
Apart from classic messaging and the channels, Telegram boasts other interesting features. For example, bots on the app create quizzes and educational tests for anyone to take.
Moreover, a catalogue of over 20 thousand stickers by professional artists is available.
If you have too many chats, you can organize them into chat folders, and configure the settings as you'd like.
Is Telegram safe?
Another aspect that sets Telegram apart from its competitors is the amount of security it provides to its users. It features end-to-end encryption and cloud-based messaging. Its main competition in the field of privacy includes less-known apps such as Threema and Signal Messaging.
Moreover, there is no in-app advertising, and the developers don't share user data with third parties. The app is free to use and earns money from donations.
Users can set up Secret Chats with messages that disappear after a determined amount of time. Additionally, users can set their account and all associated data to disappear if they don't log in during a certain period.
Flexibility
Desktop and mobile versions of the app exist. Telegram allows you to synchronise your conversations and channels on all devices.
You'll find separate, dedicated apps for Android, iOS, Windows, Mac OS X, and Linux. There is a web client available for download as well.
Fantastic yet obscure
Telegram is one of the most secure messaging applications out there. It packs quite a punch with its tools, and its channels make it stand out from the crowd. However, the lack of a video call option is a significant drawback. If you don't mind that though, this app is an excellent choice for you.
Technical
Title:

Telegram 2.5.1 for Windows

Requirements:

Windows 8.1,
Windows XP,
Windows 8,
Windows Vista,
Windows 10

Language:

English

Available languages:

English,
German,
Spanish,
French,
Italian,
Japanese,
Polish,
Chinese

License:

Free

Date added:

Tuesday, February 5th 2019

Author:

Telegram Messenger LLPhttps://www.telegram.org
Telegram v2.5.1